You know the little sample vials of perfume you sometimes get in a store? Well, a pastor I know made use of a number of those in a worship service. Let me tell you about it.
This man was preaching from 2 Corinthians 2:15: "For we are to God the aroma of Christ among those who are being saved, the fragrance of life."
Anyway, he got enough of those perfume samples so everyone got one when handed a bulletin that read, "Do not release the perfume until told to do so." Then during the message this pastor painted his picture of us being the smell of life to a dying world.
When he finished, he asked everyone to release the aroma by breaking the tiny neck of the perfume vials. It was beautiful! I'll never forget the sensation, how it brought life to the minister's words.
---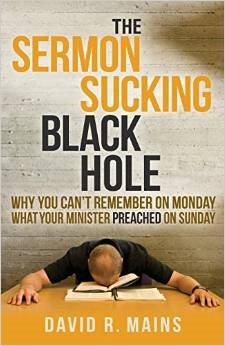 I am grateful that I continue to hear how positively readers are responding to my latest book entitled The Sermon Sucking Black Hole—Why You Can't Remember on Monday What Your Minister Preached on Sunday. This book is available at Amazon.com by clicking here.
In this book, I offer some solid tips to the people sitting in the congregation to help them remember what their pastor has said from the pulpit.
---
You will find a variety of other helpful resources for pastors and congregations at the Mainstay Ministries website. Please click here.
Share and Enjoy