I remember a Saturday night when several in my family decided at dinner to answer this question: "If God meets my needs at church tomorrow, here's what I'd want Him to do."
When it was my turn, I said, "I'd want the Lord to build my faith. I'm facing some scary decisions regarding new avenues of ministry."
Well, before church started that Sunday, I was looking outside at the new sanctuary that was 2/3 done and now totally underwritten. And, a layperson in the congregation came up and said, "David Mains, I remember when we were frightened by such a big move, and one of those early church meetings, you said, 'We're out of space. Let's step out in faith and believe the Lord will provide.'"
Hey, it was like God was using my own words now to build my faith—and church hadn't even started yet!
---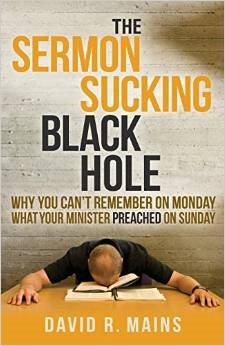 I am grateful that I continue to hear how positively readers are responding to my latest book entitled The Sermon Sucking Black Hole—Why You Can't Remember on Monday What Your Minister Preached on Sunday. This book is available at Amazon.com by clicking here.
In this book, I offer some solid tips to the people sitting in the congregation to help them remember what their pastor has said from the pulpit.
---
You will find a variety of other helpful resources for pastors and congregations at the Mainstay Ministries website. Please click here.
Share and Enjoy