Lord Jesus,
I'm praying for tears to mark the church. Tears of repentance as Your people sense Your Spirit convicting them of sin.
Then, tears of joy as well, as Christians know forgiveness and once again are restored to a right relationship with you. Tears of relief also, Lord, as relatives and friends come to Your cross and they are rescued from eternal damnation.
Revival is always marked by an overwhelming sense of Your presence. It's Your people being made aware that when they come together, You really are there with them.
So, touch our eyes so we can see You through eyes of faith. And, let the marvelous awareness of Your presence in the church result in weeping, as well.
With so much to weep over, I ask for the gift of tears. Amen.
---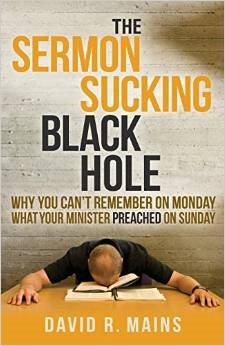 I am grateful that I continue to hear how positively readers are responding to my latest book entitled The Sermon Sucking Black Hole—Why You Can't Remember on Monday What Your Minister Preached on Sunday. This book is available at Amazon.com by clicking here.
In this book, I offer some solid tips to the people sitting in the congregation to help them remember what their pastor has said from the pulpit.
---
You will find a variety of other helpful resources for pastors and congregations at the Mainstay Ministries website. Please click here.
Share and Enjoy