Describe for me your feelings when you put your offering in the plate at church, all right? Are you happy, sad, or resentful? Too many people seem as emotionless as a robot at such times.
Here's a good thought to bring to mind when making your contribution. But first, let me hasten to say that if it sounds too upbeat, let me respond to your feeling by sharing with you that it comes from one of the greatest thinkers of all time. More than that, he's writing under the inspiration of the Holy Spirit.
Here's the suggestion I'm offering you today. I'm reading from Paul's second letter to the Corinthians, and this is the Amplified Bible:
"God loves, that is He takes pleasure in, prizes above all other things, a cheerful, joyous, prompt-to-do-it giver whose heart is in his giving."
Well, let that be your attitude this weekend, and see if it makes a difference.
---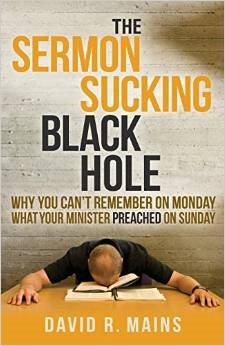 I am grateful that I continue to hear how positively readers are responding to my latest book entitled The Sermon Sucking Black Hole—Why You Can't Remember on Monday What Your Minister Preached on Sunday. This book is available at Amazon.com by clicking here.
In this book, I offer some solid tips to the people sitting in the congregation to help them remember what their pastor has said from the pulpit.
---
You will find a variety of other helpful resources for pastors and congregations at the Mainstay Ministries website. Please click here.
Share and Enjoy