When someone starts talking, it helps if you know whether they are speaking to you, to someone else, or maybe even talking aloud to themselves. I'm suggesting the same is true regarding singing hymns.
It really helps to know if the words are addressed to God, like "How great Thou art." Or, if the words are addressed to others in the congregation, "Rise up, O men of God." Or, even if the words are addressed to one's self: "Be still my soul, the Lord is on my side."
Now, one very good way you can find out is simply by getting to church early and just reading through the hymns listed in the bulletin. Or, if you don't have that opportunity, you can get some idea by scanning the first several lines while the intro is being played.
Someone's words lose their meaning if you can't tell to whom they're being said. And, it can be that way with hymns as well. So, just let this particular "word to the wise" be sufficient.
---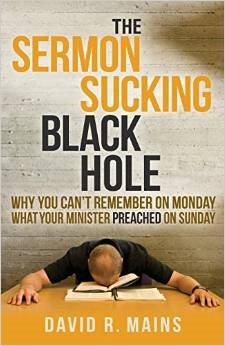 I am grateful that I continue to hear how positively readers are responding to my latest book entitled The Sermon Sucking Black Hole—Why You Can't Remember on Monday What Your Minister Preached on Sunday. This book is available at Amazon.com by clicking here.
In this book, I offer some solid tips to the people sitting in the congregation to help them remember what their pastor has said from the pulpit.
---
You will find a variety of other helpful resources for pastors and congregations at the Mainstay Ministries website. Please click here.
Share and Enjoy