Recently I was talking with a research psychiatrist in our nation's capital. This doctor worked for the National Institute of Mental Health, a Federal government office.
"Yes," he said, "our research shows that people who do attend regularly definitely live longer."
"People who attend what?" you ask. The sports center, flower shows, the theater? No, and you know what I'm going to say, don't you? It's what I talk about all the time.
People who attend church regularly definitely do live longer. That's what the research showed, according to this good doctor I talked with in our Nation's capital. Well, I don't see it as the primary reason to be in church each weekend. But, it's kind of a nice side benefit.
So I say, God bless you, friend! See you in church! And, may you have a long life!
---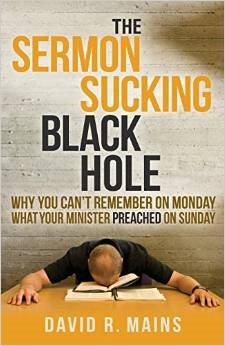 I am grateful that I continue to hear how positively readers are responding to my latest book entitled The Sermon Sucking Black Hole—Why You Can't Remember on Monday What Your Minister Preached on Sunday. This book is available at Amazon.com by clicking here.
In this book, I offer some solid tips to the people sitting in the congregation to help them remember what their pastor has said from the pulpit.
---
You will find a variety of other helpful resources for pastors and congregations at the Mainstay Ministries website. Please click here.
Share and Enjoy