What's the best form of church government?
Should the congregation have the final say on all major decisions? What about a group of elected elders being able to carry on church business without having to consult the larger church body? And, where does the pastor fit in? How much influence or decision-making power should he or she have?
You want to know something? Every arrangement has its strengths and weaknesses. None is perfect, and here's the key. Now, pay close attention.
Where there's love and respect for one another in a church, almost any system will work. And, where love and a mutual respect do not exist, no system is going to work. Frankly, it's about as simple as that.
Love and respect for one another—that's what makes church business easy to carry on.
---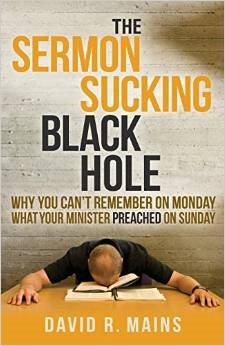 I am grateful that I continue to hear how positively readers are responding to my latest book entitled The Sermon Sucking Black Hole—Why You Can't Remember on Monday What Your Minister Preached on Sunday. This book is available at Amazon.com by clicking here.
In this book, I offer some solid tips to the people sitting in the congregation to help them remember what their pastor has said from the pulpit.
---
You will find a variety of other helpful resources for pastors and congregations at the Mainstay Ministries website. Please click here.
Share and Enjoy