One thing makes me nervous about going to church. Do you know what it is? What makes me nervous is that sometimes I can't remember people's names. Ever had that problem at church?
Hey, I've started writing people's names on notes I keep in the front of my Bible. That's been helping me with my problem of forgetting names.
There's a great Scripture passage in Isaiah. It reads:
"I will not forget you. Even if a mother could forget the baby at her breast, which is highly unlikely, I'll not forget you."
That's God speaking through His prophet.
So, go to church this weekend with this marvelous promise from the Lord that He even remembers your name when He welcomes you to His house. Wonderful!
And, when the names of new friends are written on a note inside your Bible, you can get people's names right, too.
---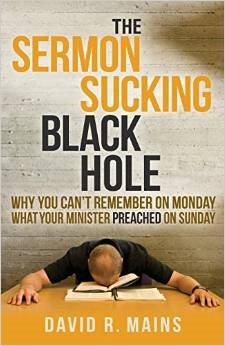 I am grateful that I continue to hear how positively readers are responding to my latest book entitled The Sermon Sucking Black Hole—Why You Can't Remember on Monday What Your Minister Preached on Sunday. This book is available at Amazon.com by clicking here.
In this book, I offer some solid tips to the people sitting in the congregation to help them remember what their pastor has said from the pulpit.
---
You will find a variety of other helpful resources for pastors and congregations at the Mainstay Ministries website. Please click here.
Share and Enjoy