When I spoke at the baccalaureate service at Roberts Wesleyan College in Rochester, New York, I was also invited to a meal at the home of the college president. The food was delicious, and a dignified man in kind of a butler's coat served a dozen or so of us around the table. This man was very polished in what he did.
Before dessert, the college president introduced our waiter, who was an employee at Eastman Kodak in Rochester. In fact, some of the beautiful table-settings were his. And, every year for over two decades, he played the role as servant to servants of the Lord at this given meal. How marvelous, heh?
I witnessed a powerful silent sermon on servanthood by a churchman that day. I don't think I'll forget it for a long time.
---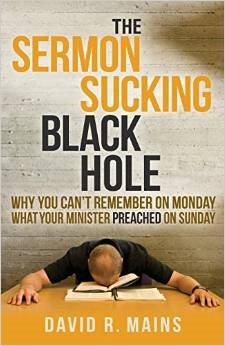 I am grateful that I continue to hear how positively readers are responding to my latest book entitled The Sermon Sucking Black Hole—Why You Can't Remember on Monday What Your Minister Preached on Sunday. This book is available at Amazon.com by clicking here.
In this book, I offer some solid tips to the people sitting in the congregation to help them remember what their pastor has said from the pulpit.
---
You will find a variety of other helpful resources for pastors and congregations at the Mainstay Ministries website. Please click here.
Share and Enjoy