The Chinese invented paper about 105 A.D. So, paper has been around for quite a while. Still, it surprises me how few people bring anything to write on when they attend church. It's as though they assume nothing worth writing down is going to happen. Those whose faith is vital, more often than not, bring paper and take notes on Sunday.
Let me get you to quickly examine your expectations about church this coming weekend. All right?
Will something special happen? Might you possibly need to write down someone's phone number to call to see how he or she is doing? Is it going to be business as usual, so don't worry about it this week at the church? Or, maybe it will be a time when the Lord works and He may want to make use of your gifts.
I'm saying to you, be prepared. Take a pen and paper just in case.
---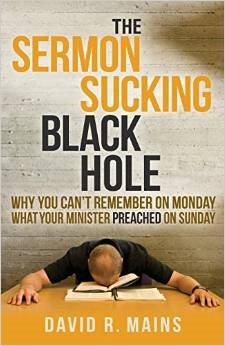 I am grateful that I continue to hear how positively readers are responding to my latest book entitled The Sermon Sucking Black Hole—Why You Can't Remember on Monday What Your Minister Preached on Sunday. This book is available at Amazon.com by clicking here.
In this book, I offer some solid tips to the people sitting in the congregation to help them remember what their pastor has said from the pulpit.
---
You will find a variety of other helpful resources for pastors and congregations at the Mainstay Ministries website. Please click here.
Share and Enjoy