Film is most amazing. It can take you backwards in time or thrust you forward into the future. As long as we have filmmakers, our lives won't be limited to the present.
The church also has this amazing ability to transcend time. Recently, I took a man back in time to meet Jesus. It was no trouble at all. The two of us, through prayer, bowed together before Christ on the cross. I chose that place in time, over 2000 years ago, because this fellow needed his sins forgiven. Well, he named what he had done and prayed, "Jesus, please let the blood you're sharing wash me clean."
And by his testimony, not just mine, that's exactly what happened. Most amazing, heh? Christ's great act of love was suddenly once again right here and now.
---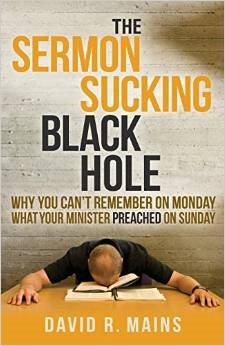 I am grateful that I continue to hear how positively readers are responding to my latest book entitled The Sermon Sucking Black Hole—Why You Can't Remember on Monday What Your Minister Preached on Sunday. This book is available at Amazon.com by clicking here.
In this book, I offer some solid tips to the people sitting in the congregation to help them remember what their pastor has said from the pulpit.
---
You will find a variety of other helpful resources for pastors and congregations at the Mainstay Ministries website. Please click here.
Share and Enjoy